Wtyczki: Cindigo 2.2.1 - kolejna beta

Wysłany przez Borys

News prosto z Cgtalk.com

Im pleased to announce, that Cindigo, the Indigo Exporter for Cinema 4D, version 2.2.1 Beta 1 was recently released.

It has numerous new features and improvements(see below) and offers an improved workflow for working with Indigo. I'd say its not second to none of the other exporters/renderer integrations. But thats just what i would say (you will have to try it yourself)


It works with the 2.0 stable release of Indigo and with the recent 2.2.1 beta release.

For those who want to try it, a free/trial version of indigo with little (well, little compared to others) restictions is available at www.indigorenderer.com. There are currently PC builds for R10, R11 and R11.5 (all x86 and x64). Mac builds will follow shortly.

And a little reminder: We offer lifetime licences to the next 40 purchasers.


The plugin can be downloaded from here.

--------------------------------------------------------------------------

New Features and Improvements


Custom Indigo Material




The most prominent new feature of Cindigo 2.2.1 is the custom Indigo material. It allows you to create and tweak materials as easy as if you did it with C4D. It now has even more options and you finally dont have to hassle with the material helpers anymore!
It also does not have the restrictions you might know from other custom materials in other exporters/renderer integrations (yes, it supports camera mapping).



Generate UVW Coordniates for the Indigo Material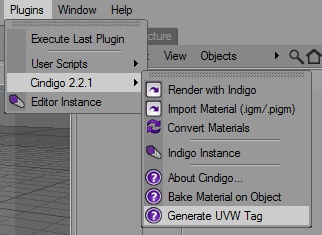 It is a known limitation of custom materials, that you cannot generate UVW coordinates for it. Well, it will not work with this custom material either - at least not the usual way.
In Cindigo 2.2.1 there is a new option in the plugin menu. It allows you to generate UVW coordinates for texture tags with an Indigo material applied. It only works on polygonal objects. Just select a texture tag with an Indigo material applied and select "Generate UVW Tag".



Support for C4D Procedurals and Shaders

Cindigo now supports C4D shaders - by baking. They are automatically baked on export and allow you to create better materials with less effort. The shaders are baked per material, so only UV space shaders will give expected results.



Support for C4D Procedurals and Shaders (3D)




Since the standard procedure only supports 2D shaders there is of course also a way to bake 3D shaders in Indigo materials on objects. It works similar like C4Ds "bake on object" command. A decent UV map is of course required. At some point "optimal mapping" will be supported, too.



Better Material Conversion

The material conversion was improved, too. It gives better results than before and it now also supports on the fly conversion of C4D materials during export!



Progressive Preview




Cindigo now has a better material preview. It updates progressively as Indigo renders. Unfortunately you still need Quicktime for the previews. That will change in the next versions.



Tons of OSX Improvements

Yes, there is no OSX build yet, but a lot of OSX improvements have been achieved, including proper Indigo launching, working material previews and material import/export improvements.